23 October 2006
By Ian Warner
Next to Berlin's famous Potsdamer Platz is the octagonal Leipziger Platz which has been slowly taking shape over the last 10 years. Two of the buildings on the north side of the square, sandwiching the Canadian embassy, are very interesting indeed for they are not actually there yet.
In this picture it is necessary to scrutinise the building in the middle with the large red banner out front (AvD-Haus, Leipziger Platz 16), for it is an egregious fake, as is the building on the far left (Leipziger Platz 18). To be more precise, they're both made of inkjet-printed PVC strapped to an elaborate scaffolding construction which is plainly visible from the street behind: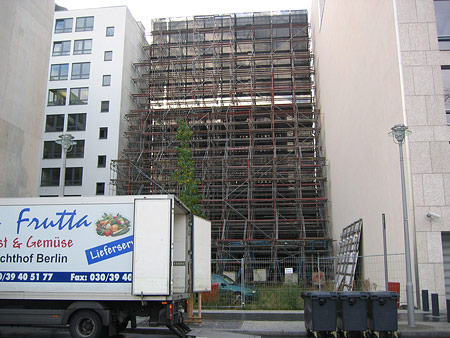 Poor, poor Berlin. So broke; so imaginative. Maybe the investors are just waiting for the right time, the appropriate historical moment to have their flat-pack 'Prussian-Lite' boxes erected. Our hope is that the originals won't be a bit different from the fakes. Whatever the reason for their current manifestation, SLAB is delighted to be able to record and comment upon the finer points of this absurd development such as the 'front door', and the exquisit corner detailing of Leipziger Platz 18 illustrated below and at the bottom of this posting respectively.

Stylish entry situation (note the padlock)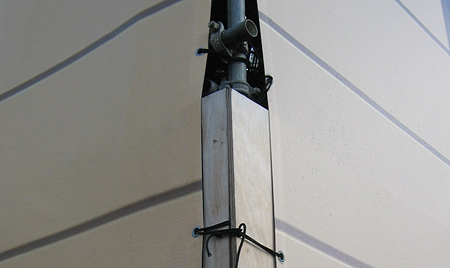 Meticulous corner detailing
Feel obliged to admire the construction of both fakes with Google Maps here.