The New Death Strip
Authenticity and artifice, remembrance and concealment, hyperbole and banality: twenty years after German reunification, the piece of land once defined by the Berlin Wall's notorious Death Strip is a landscape of paradoxes. Once the front-line of the Cold War, now a super-charged historical signifier, the Strip is facing up to a perplexing semiotic challenge: normality.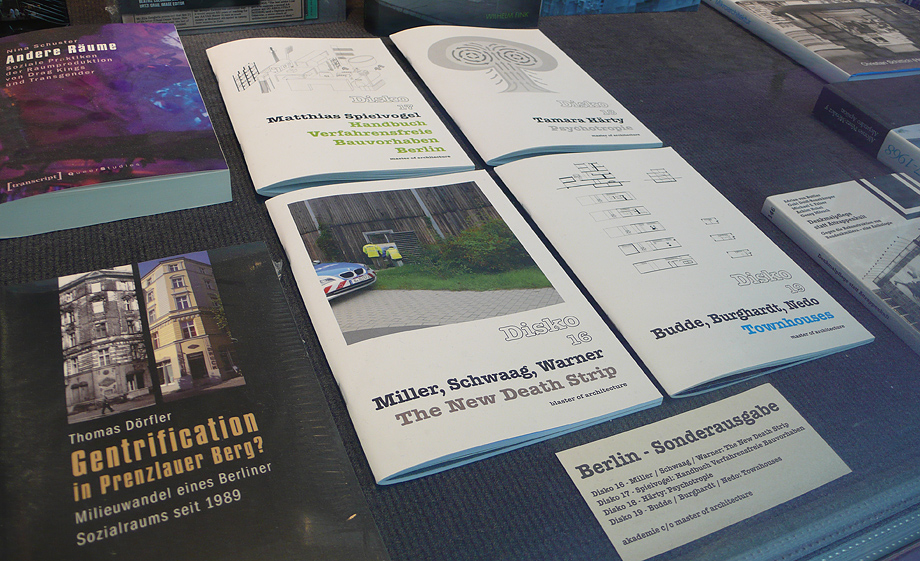 The New Death Strip "" available now, in awesome bookshops

Towards the end of 2009, Slab Magazine's Oliver Miller, Daniel Schwaag and Ian Warner were invited by architects Arno Brandlhuber and Silvan Linden, to write an edition of Disko, the ongoing series of booklets they publish as part of a masters program in architecture and metropolitain studies at the University of Nürnberg.
Part travelogue, part dissertation, part burlesque comedy, The New Death Strip is a rambling polemic on the state of Berlin town planning, twenty years after the fall of the Wall and a eulogy to the triumph of the unremarkable in remarkable circumstances.

Disko 16 – Miller / Schwaag / Warner: The New Death Strip
80 pages, staple bound, with 29 black and white photos, 25 colour photos, 5 diagrams, 2 dingbats and a surprise inner cover
Published by: Arno Brandlhuber, Silvan Linden – akademie c/o Architektur und Stadtforschung, AdbK Nürnberg
Distributed by Vice Versa Vertrieb
A low-res PDF version can be downloaded at a42.org
Listed in the German National Library