9 May 2007
By Karen Eliot
MTF was kind enough to comment on this article, written with more enthusiasm for a pessimistic gag at the expense of Berliner cooky-cutter sandstone boxes, than for solid research.
He posted a link to some renderings of the building destined to rise up out of the Spreedreieck hole: and it's really rather good.

Slippery when wet
The pert cucumberyness of the rendering shown above right is altogether more slippery than the older set of designs which are also to be found on Mark Braun Architects' website. Listed in "Projekte" under the titles Spreedreieck I Berlin and Spreedreieck II Berlin are, respectively, a 40-story fairlytail of a skyscraper and a cuddly but angular nod to Mies van der Rohe's original design.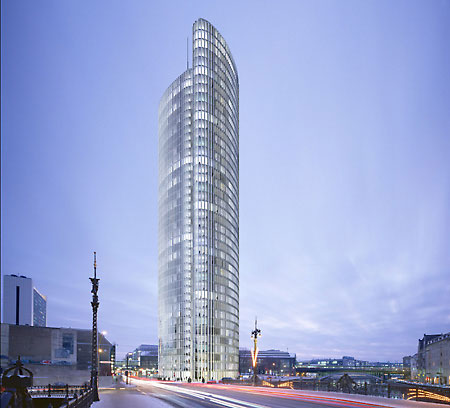 Thirty-two floors more than required
Mark Braun Architects' forthrightness in showing early plans for the Spreedreieck tower is refreshingly frank. Whilst designers of all kinds are keen to point out that design is a process, the wider public only ever sees the final results. This situation can easily lead to resentment on the part of Fred Blogs on the street who has little or no understanding of the underlying requirements, decision making, restrictions, revisions or aesthetic language which manifest themselves in the final product.
Maybe this could be the function of the huge wooden fences which surround most building sites: an educative infographic protocolling the entire design process in real time. It would be a lot more interesting than the usual signs proclaiming "stick no bills", or "Plakatkleben Verboten!"