I.W. Sun 22nd Feb '09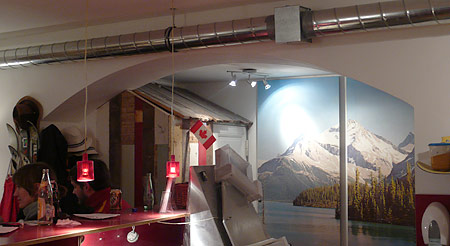 You could not wish for a more exquisit toilet door than this scrappy, but knowing in-house outhouse. Beautiful details include: the grey and white slats, whose paint ends abruptly at the same height, counterpointed by a single, bright tan-wood square just above; and also the curvature of the top of the left-hand wall as it butts up to the archway.
Admired in Ron Telesky Canadian Pizza, where you are advised to order a slice of Rocky Mountain pizza and drink root beer, admire the stuffed moose head, and take a leak in the Canadian Mountain John.
Ron Telesky Canadian Pizza
Dieffenbachstraße 62, 10967 Berlin