23 November 2006
By Ian Warner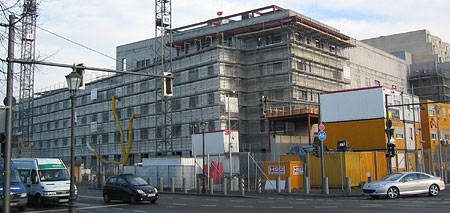 New US Bunker Embassy in Berlin. It's mole proof
This is the new US Bunker Embassy nearing completion in Berlin. The raw construction was completed in October this year. According to the embassy's website the bunker building will be open in spring 2008. I can only assume that the coming year and a half will be used wisely by kitting the structure out with bug-proof wallpaper and some weird skunkworks-style plasma energy forcefield technology, as well as installing the specially imported American sockets, left-turning door handles and special US-grade concrete, as previously reported by Spiegel [English].
Says the embassy's website:
"The palette of materials and design features have been carefully considered to complement the setting and to provide an open yet secure presentation of America."
Which means they needed a bomb-proof box with a front door. One of the worst things about this day and age is that 'normal', 'law-abiding' citizens such as myself start thinking like terrorists out of a heightend sense of ones own safety. You get into a train and wonder where best to sit so as to avoid being blown up. You first imagine where a terrorist might place a bomb, and then try not to sit there.
The same applies to the safety requirements of this building. A road had to be rerouted in order to ensure that the structure be positioned 25 meters away from passing traffic, shifting the requirements to the magnitude of an attack on the building: a 60 meter-wide crater would be needed in order to do substantial damage. That's a blast I don't want to see.
The illusion of 'ultimate safety' will always mean a retreat into a bunker, real or metaphorical, and the further you hunker down the larger the fear will grow. The requirement of exponentially increasing safety measures could theoretically be met by exponentially increasing violence on the part of your enemy. That's a slippery slope towards an ugly future.