30 November 2006
By Karen Eliot
The tiny plot of land on the corner of Mulack and Gormann Street in Berlin's Mitte district is about to be blurbanised by Hoyer, Schindele, Hirschmüller + Partner, an office responsible for many of Berlin's recent, more interesting building projects. The Case Study House 8 at Gormannstraße 8/9 is an ambitious looking angular construction which resembles a Koolhaasian gin hangover: probably a whole new architectural genre.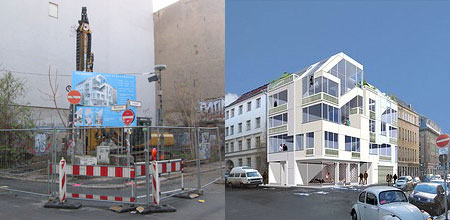 The hole (l), the rendering (r)
The rendering makes the building appear twice as wide as it will actually be, and the interior space of the upper floors is dominated by some serious Escheresque geometry. Bath tubs will hopefully be installed on ceilings. The ground floor offers 40 square meters of retail space, which will – in full accordance with Mitte zoning laws – end up as a high-price fashion boutique where no one shops, or a WLAN-equiped café selling lattes under an obscure new name.
A brave looking gap filler. Will be ready in autumn 2007.