9 March 2007
By Karen Eliot
To much fanfare a 3D virtual Berlin with around 44.000 buildings went online in Google Earth yesterday. About 10% of the city has been recreated, and 500 featured buildings have been given photorealistic façades. Responsible for the daunting task is the Potsdam based company 3D Geo GmbH working in conjunction with the Berlin Senate.
Architecture is politics anywhere, but in Berlin especially so: where the Senate's hands are at work, hyperreal fantasy speculations about Berlin's future can't be far away. To paraphrase my colleage, Berlin is always going to be something, and never is anything.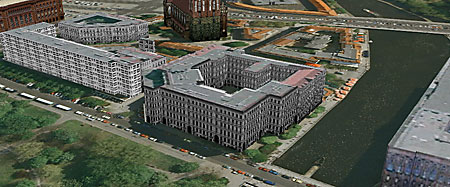 A stinking fake. Or a semiotic nightmare.
SLAB has already covered inkjet-printed fakeytecture here, but now we're going to have to define a new category of absurdist simulacra. The picture above is a virtual representation of an architecture which doesn't exist in reality. A simulated fake, so to speak. It doesn't stop there though. This virtual model is a contemporary 'historicised' proposal for what should be here. What is here is a 'historicised' East German Plattenbau. And that was a faked-up attempt to look old too. So this is actualy a simulated fake, faking the fact that a 'bad' fake is not genuinely fake enough to outfake the fake.
That's how we formulate the almost scandalous situation. Here's how the Senate spins it:
The project brought together existing though previously separate urban planning and business promotion models of the city, creating a joint, forward-looking system.
Baaaäh. SLAB managed to make the above screenshot before the server ground to a halt. Berlin is a freakshow, and people do like a good gawp.
Links:
– Download the Google Earth 3D Berlin bookmark somewhere on this site, but don't ask us where because it's pretty hidden and we've forgotton.
– Semiotics for beginners
– Nikolaiviertel at Wikipedia [English: low on information]
– Nikolaiviertel at Wikipedia [German: high on information]