14 April 2007
By Ian Warner
Friday's edition of the Berliner Morgenpost carried a fairly dull and entirely uncritical article about the leisure necropolis called Alexa currently being built in downtown Mitte.
Instead of mentioning that the actual construction doesn't resemble the model they printed in any way shape or form (see below), the article bangs on instead about the fact that the currently missing sky-scraper-bit might actually be built by 2013. The more interesting question of whether this model was used to gain planning permission from the Senate, wasn't adressed. Nor so the question of whether this might constitute fraud.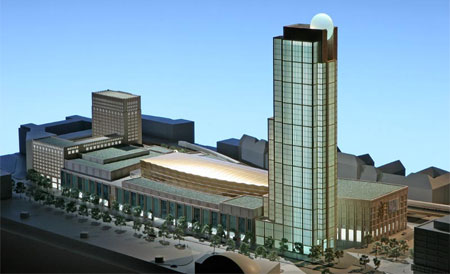 Utter balls
Interestingly, this picture was credited to investment group Sonae Sierra, and not to the architects Ortner & Ortner who seem to be keeping a low profile in the press. Ortner & Ortner even misspell the name of the project on their company website, hinting either at sloppiness, profound shame, or a belated and undocumented shopping mall gender change.


Nomen dubium: snippet from Ortner & Ortner's website, 14.4.07
Meanwhile SLAB has left the following enquiry for Alexa's German Leasing Manager, Heiko Städele, via the Sonae Sierra website:
Why does this building have no windows? And why is it made of pink granite, whilst all published renderings show a building with a light facade of green tinted glass?
SLAB excitedly awaits a response.