20 May 2007
By Ian Warner
Chatting to my sister on the phone this evening, we got on to the subject of retail interiors since she's just landed a job as an interior designer for a leading British supermarket chain. I told her about the last day of my trip to England a month ago, were I paid homage to that zenith of highstreet retail-styling, Marks & Spencers.
Marks & Spencers used to be a pretty dreary affair until some point in the early 1990s when it became clear that they were on their way up-market. It was the M&S foodhall which seemed to be leading the way: it started offering things like wholegrain chicken tikka masala sandwiches (pretty exotic in 1992), "traditional" style crisps and gorgeously branded little bottles of freshly squeezed orange juice.
The store I visited in Windsor is divided into two zones on the ground floor: a white zone (the women's clothing section, which seems not to have alienated its core customer base and is still dominated by gigantic beige bras), and a black zone at the back (the food hall, which resembles a wing of the Tate Modern). Both sections are tied together by super minimal typography (Neue Helvetica, Ultra Light) and lime green accents which will be fashionable for about three minutes every six months till the end of time.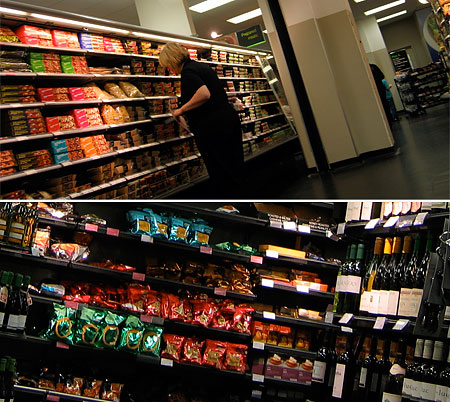 The thin line between designer heaven and designer hell
These photos capture a little of the food hall atmosphere, and a lot of my own nervousness about pulling out a camera on private property. The black floor and shelving provides the backdrop to an orgasmic riot of outragously over-under-designed packaging. Again, black often finds its way into this too, as do bold blocks of highly saturated colour, offset by lucious macro photography of the food stuffs inside. Shortcake biscuits are made to reveal a universe of unimagined erotic potential; a packet of müsli appears as the dilution of all human achievement.
The temperature is kept nipple-erectingly low, and there is none of the accoustic clutter so common to normal supermarkets. There is a serene functionality and calm precision to the fittings, the atmosphere is part library, part zen garden. The presence of utilitarian red plastic crates amongst this onanistic designer splurge hints at a whimsical, unembarrased acceptance of the vernacular form. And is probaby just practical too.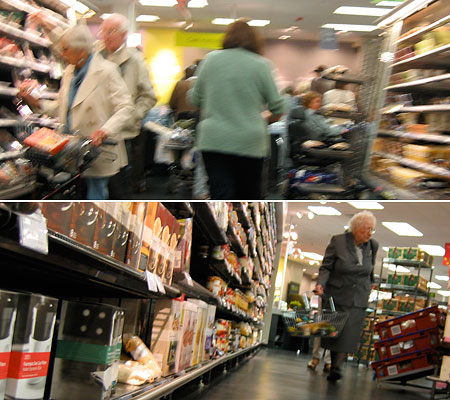 All human achievement is to be found here. Granny too.
Of course, the sensuality of food is exactly what M&S are riding their whole campaign on. The food halls themselves, and the saucy minimalism of the packaging, are merely the flimsy set pieces for the pornographic culinary romp promised inside.
Watch this (real) M&S ad with the audio turned off, then replay it with the audio, but close your eyes. The slight moistness you might experience afterwards is normal.