30 July 2007
By Ian Warner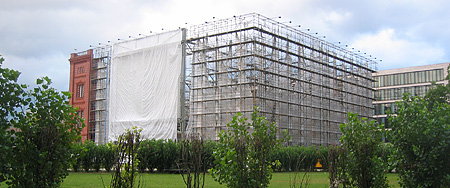 Dismantled: PVC fakery
Witness the dismantling of Berlin's non-plus ultra fakeytectural adventure, Karl Friedrich Schinkel's Bauakademie. Originally built between 1832 and 1836, the Building Academy was heavily damaged during WWII and pulled down in 1962 to make way for East Germany's foreign office building, which was then demolished in 1995.
In 2001 the project Pro BauAkademie was founded by the International Building Academy Berlin with the express aim of rebuilding Schinkel's "jewel". Students reconstructed a single column-like corner of the building, shown above to the left, and with the support of Mercedes-Benz a PVC simulation was erected complete with a three floor high cinema screen on which thunderous adverts for cars ran late into the night.
On summer nights it was quite interesting to witness the spontaneous manifestation of a free outdoor cinema in the gardens surrounding the structure. Between moody ads for the new S-Class I did occasionally catch real films running here with architecture as their central theme, but I can't say I'll miss the thing. It seemed odd here. It turned the road Werderscher Markt into a draughty corridor, and with no building between it and the Friedrichswerdersche church (also one of Schinkel's, see below) it stuck out like a wobbly old tooth.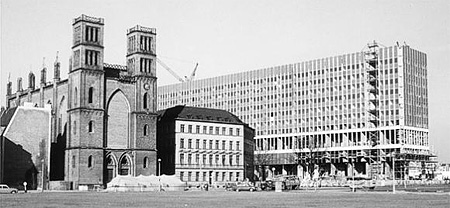 Pulled down: Foreign Office of the GDR (right), 1966 [Image source]
The pending absense of this prestigious tent is a little mysterious: the last press release issued by Pro BauAkademie was in February 2006, and the International Bauakademie Berlin issued their last back in December 2004. Looks like for now, the air's gone out of this Berlin bubble; but the circus that is this city's urban development, with all its 'critical reconstructions', it's speculative historicised models for future pasts and its 'selective dismantlings' will no doubt carry on debating and deliberating, eyes fixed on the hypothetical day when Berlin is finally finished.

Bombed to bits: the Bauakademie pictured here in a painting by Eduard Gaertner, 1868