6 January 2008
By Ian Warner
Johannes sent me a link to Dutch artist Florentijn Hofman in his comment on the previous article. Hofman's work fills the uncomfortably large gap between Jeff Koons' goofy, architectural-scale sculptures and Situationist International excercises in détournement.
Of particular animal interest are the works "Zwarte Kraai" (Black Crow) for its structural similarities to Spanish Osborne Bulls "¦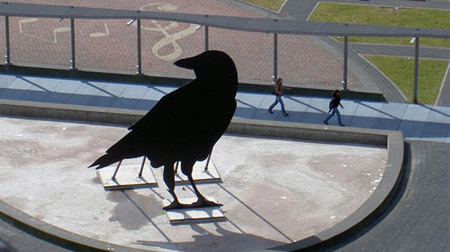 "¦ and the gargantuan cuteness of "Canard de Bain" or "Badeend" (Rubber Duck):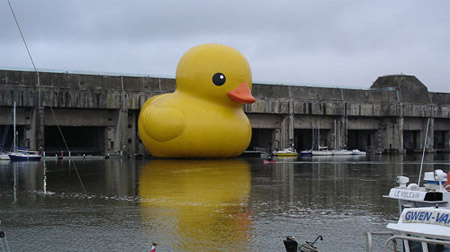 "Canard de Bain" recalls the so called "duck" architecture of Robert Venturi and Denis Scott Brown in their seminal 1972 publication "Learning From Las Vegas"
. Where in "duck" architecture the form of the building is symbolic of it's function (as opposed to sticking a sign on a shed), Hofman's floating rubber duck defies function. It doesn't stand for anything and you can't do anything with it: it's just a big cute duck in the harbour.
Large-scale urban intervention can also be seen in the work "Beukelsblauw" in which an entire row of early 20th century houses, earmarked for demolition, were covered in a 2-micron-thick layer of blue paint. "Gele Straat" (Yellow Street) meanwhile is a sly nod to the famous Yellow Brick Road, that hopeful street leading to a distant land of promise: in this case the city of Schiedam, the Netherland's poorest city.
Related reading:
Big Duck is Back at Hampton's Gateway – New York Times article about the original duck building's triumphant return to the neighborhood where it originally stood before its 20 year exile four miles away.