15 April 2008
By Ian Warner
Last week SLAB reported on the pending building developments on a plot of land between Choriner Straße and Zehdenicker Straße in Berlin's Mitte district. The so-called Choriner Höfe are to be built here.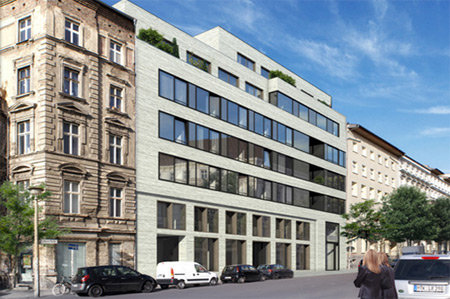 Choriner Höfe, so very stylish, to be built in 2008
The word «Höfe» is the plural form of «Hof», which means yard, and is a reference to the typical building style around the time of the industrial revolution. Houses were built deep into the center of street blocks around dark inner yards, connected to each other by archways. Sometimes these hive-like structures had five back-yards, and were also a mirror image of society with the upper-classes living at the front and the working class packed further back in the murky depths. Seen historically, Höfe had less to do with quality of life, and more to do with cramped mixed-use space: domestic housing butting up against hospitals and heavy industry.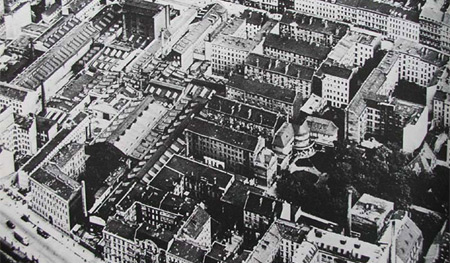 Meyers Hof, not at all stylish, blown up in 1972
Since the late 1990s though, the word «Hof» in Berlin has become associated with tourist attractions such as the Hackesche Höfe, whose synonymity with a long-gone alternative art scene has fueled its image for nearly two decades. So it's interesting to see how the word «Hof» is still being appropriated in real estate marketing.
The website for the Choriner Höfe is a bloated bag of unspeakable turds. Shortly after the site opens in your browser window, and expands to fill your entire screen, American sitcom compatible jazz music pipes up, and after a few bars morphs into a Kruder & Dorfmeistery low-fat, decaffeinated electro-jazz shuffle.
The site is dominated by pic-and-mix photographic associations, which have been chosen more for their lifestyleyness than they have for an accurate representation of the neighbourhood. A photo of the café Gorki Park on Weinbergsweg, less than 300 meters away from the Choriner Höfe, is the backdrop for the peculiarly name page «History Living», but is not mentioned on the page «Finest Places» where three restaurants are listed, two of which are to be found on Kollwitplatz a kilometer further north in a completely different neighborhood.

Screen-grab from www.chorinerhoefe.com
More absurd still is the page «Culture» (shown above), which, next to the girl with her finger in her ear, shows a photo of the interior of Lord Norman Foster's philology library at the Free University in Dahlem; which, the last time I checked, lies 16km to the south west of the Choriner Höfe.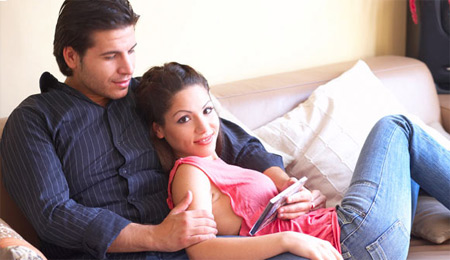 Mitte's finest: paternal John Travolta type with very young Latin belle inspect their new Beatsteaks CD [screen grab from www.chorinerhoefe.com]
The scattershot use of photographic material is comparable to that disquieting feeling one has when watching a film which has been shot in a city you know very well, and where none of the cuts in outdoor scenes match up with local geography. Your happily suspended disbelief is shattered, and the nuts and bolts of the movie are brutally exposed. In property marketing, a little fiction is not carelessness, it's dramatic license.
Texts on the Choriner Hof website though are almost psychotic in their hyperbolic insistency. They read like the work of a fervent property evangelist, willing the future into existence by repeating the same demented mantra over and over. For instance, we learn that the Choriner Höfe are already "¦
"¦ a hotspot for people who have made the decision to lead a self-determined life. For people who not only buy but make brands; who want to be there when it happens.
Elsewhere we read that these idealised, «self-determined» tennants are people who "¦
"¦ work and produce on balconies, roof terraces, hidden gardens or in cafés while listening to the Kaiserchiefs, the Beatsteaks or Bloc Party on their iPods.
Further more "¦
"¦ everybody can be a star! Perhaps this is the reason why people would never stop and star [sic] while Angelina Jolie and Brad Pitt amble through the alternative boutiques of the Kastanienallee.
This marketing prose is obviously insane: a potpourri of celebrity name-dropping, quack cool-codex, iPod playlist and engineered clairvoyancy. The wish-list of future tennants, as individual and independent as they are said to be, are sadly pre-prototyped readymades, easily identified entries in a database, plug-and-play units no more than a matching accessory to the beige sofa or the oak floorboards.
In a city as grubbily organic as Berlin "" famed for its constant improvisation, its restlessly shifting countercultures, its grassroots democratic sense of scandal and its enduring delusion that it'll one day, really really soon, be ready "" it's utterly fascinating to observe how a small group of property developers are stoicly paddling upstream, utterly convinced that the maelstrom of frothing water bearing down against them is actually just a small brook flowing placidly in the same direction.