3 August 2008
By Ian Warner
The department store Ebbinghaus at the top of Lindenstraße has been raized, most likely taking with it the family of foxes this author can testify to having seen nesting at its base.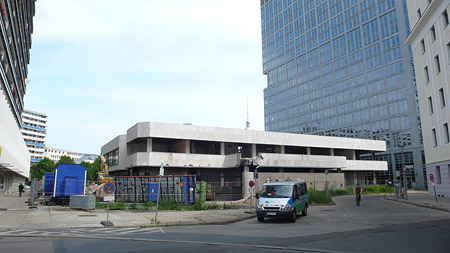 Going "¦

"¦ going "¦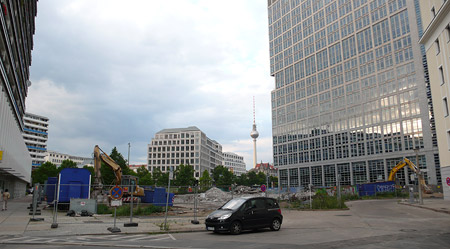 "¦ gone.
The building always seemd oddly located. About as glamorous as a car park, its meager two floors meant that it was permanently overshadowed by it towering neighbors. Immediately to the left (in photo) stands one of an ensemble of 27-storey apartment blocks built in the GDR in 1982 as a kind of visual shield, blocking the politically undesirable view of the West German Alex Springer publishing building not far beyond. To the right stands an equally tall 1990s office tower which, at night, looks like it should have been Darth Vader's private residence on the forest moon of Endor (see this great article for further digression on Star Wars and contemporary architecture).
Thankfully no further buildings are to replace Ebbinghaus. Instead the historic street plan is to be reconstructed, effectively lengthening Alex-Springer-Straße towards Spittelmarkt and reconnecting Kreuzberg with Mitte via a speedy two-laned drag-strip.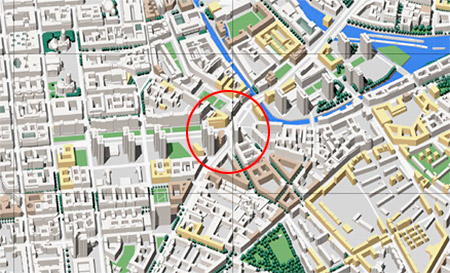 Image via Senate Department of Urban Development, Berlin
Just one thing: where did the foxes go?