19 December 2008
By Ian Warner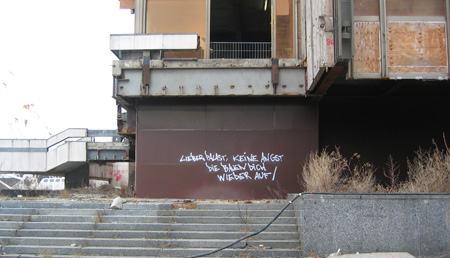 2006
It's important to remember that the Palast der Republik – the former seat of East Germany's parliament – wasn't «demolished». In the words of the Senate Department for Urban Development, the building was «dismantled», which gave the process a certain degree of intellectual dignity. The German word for the process was «Rückbau», which means to "un-build". Similiarly, zombies are un-dead.

2008
The photo at the top of this post shows a graffiti sprayed onto the Palast's walls in 2006. At this stage, tonnes of asbestos were still being carefully extracted from within. «Dear Palace, have no fear, they'll rebuild you again!», it reads. It's a wry comment on the fairy-tale plans to rebuild the Berlin City Palace, the building commisioned by Margrave Joachim II in 1538 which previously stood here until it was destroyed in 1950.
The only graffiti visible on the site today is the defiant cry above: «Die DDR hat's nie gegeben", or «The GDR never existed». The irony of this statement will no doubt be grimly understood by many inhabitants of the former East.
SLAB admits to being rather overwhelmed by the current hullabaloo of Schloss-related news; in particular with the announcement on November 28th, that the Italian architect Franco Stella had won the competition to rebuild the Palace. More of that here soon.