31 January 2010
By Ian Warner
At the impressionable age of sixteen, and with sufficient technical drawing skills, I went and did a work experience at an architectural office in London. It was part of a school program, lasting, I think, two weeks. A year later I returned during a summer break, and put in a couple more weeks at the firm's new office on Shad Thames, just around the corner from the Design Museum.
I helped survey underground station entrance buildings. I drew worm's-eye axonometric views of esculator shafts. I discovered Shin Takamatsu. I learnt that Finsbury Park, when spoken backwards, became 'Krapy Rubsnif'. I played an after-work game of softball against Saatchi & Saatchi. I heard the word "fuckwhip" used as a term of collegial endearment for the first and only time in my life. I commuted to work in bermuda shorts. The office fax machine's internal clock was set to the year 1902. And I was sure of two things: that I would never become an architect, and that I was definitely going to live and work in London in the future.
One lunchtime I was outside on the banks of the Thames with a couple of guys from the office, and we were looking at this building from across the river: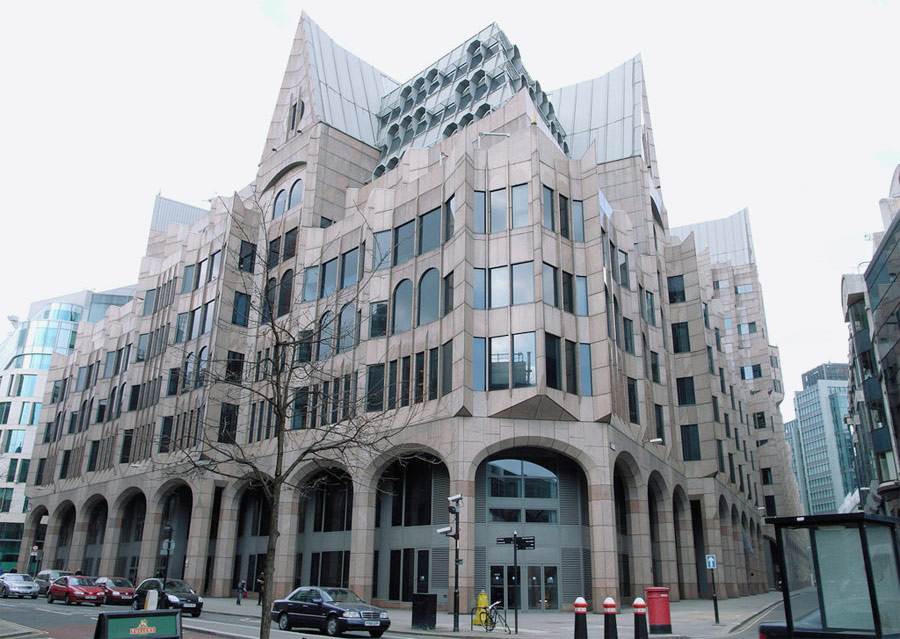 Minster Court, by GMW Architects, 1991. [Photo: Flickr user stevecadman]
It seems extraordinary that we were able to actually see it from where we were sat, but it was a sufficient view for one of the architects to dub Minster Court "Transylvania". Looking back now, this small event seems to be ultra significant, since it was my first encounter with architectural satire, which is obviously part of SLAB's unwritten program.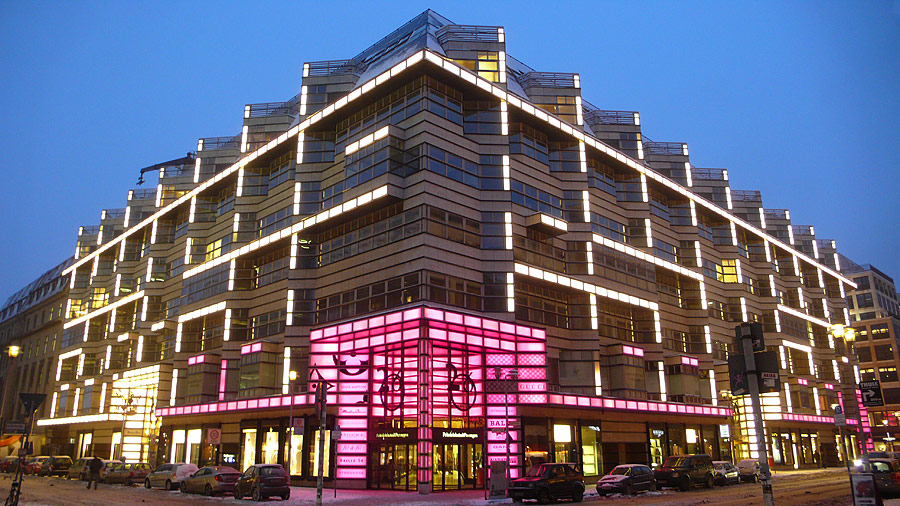 Quartier 206, by Pei, Cobb, Freed & Partners, 1992-96. [Click to enlarge]
So I'm wondering if a dash of nostalgia has anything to do with my new found admiration for the Quartier 206 building, shown above. Built in the early to mid nineties, this was one of a whole ensemble of projects which went up on Friedrichstraße, one of Berlin's most important thoroughfares. There is a lot to hate about post-reunification architecture on Friedrichstraße. O.M.Ungers' Quartier 205 is a starchy sandstone waffel, one of the late architect's many odes to the mystical universality of the square, which houses a branch of H&M. Even the great Philip Johnsson left his mark here, though the bulbous turd he deposited close to Checkpoint Charlie must have been draughted whilst he was on vacation.
But Q206 has something going for it. By day it is an exhausting beige hulk, ridiculously ribbed and encrusted with jutting angular bay elements. But at night it turns into a glowing 8-bit computer game rendered in amethyst. Atari-gothic, or something. Recast Max Schreck's Nosferatu as a Vice City pimp and this could be the Dark Lord's Beverly Hills crib. And that's kind of where we all want to go shopping isn't it?