2 March 2010
By Ian Warner
Hans-Kollhoff's office tower on Potsdamer Platz was barely seven years old when it disappeared behind a curtain of scaffolding. In September of 2006, our colleagues over at the Tagesspiegel reported that builders were busy "knocking off the façade", amid unconfirmed rumors that parts of it had fallen off and were posing a threat to pedestrians.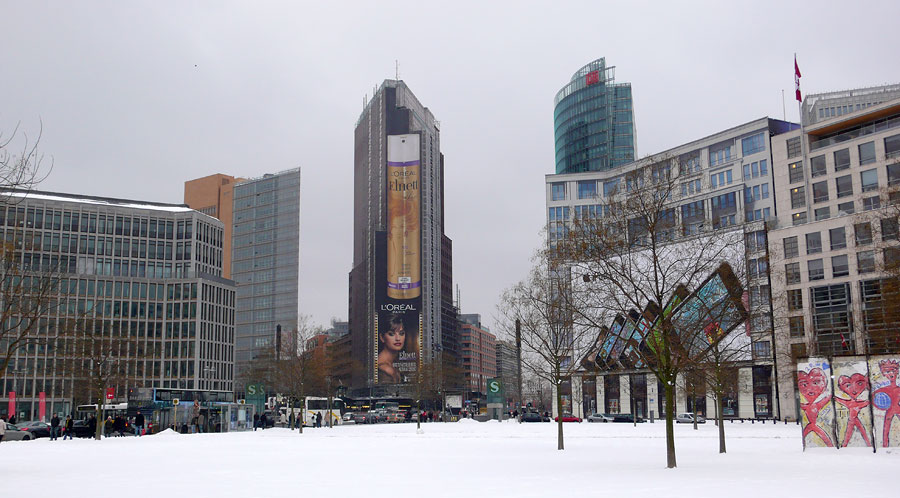 Kollhoff's tower (center) on Potsdamer Platz, seen from Leipziger Platz [Click to enlarge]
Ute von Vellberg, spokeswoman for Daimler-Chrysler – the building's owner at the time – called the measures "precautionary and voluntary" and hadn't followed any particular incident. However, the preceeding winter was blamed for unspecified damage to the large brick-look tiles which coat most of the building's twenty-five floors. Looking back, the Tagesspiegel seems to deliberately tempt fate by quoting von Vellberg as saying that work would be completed by Christmas 2006.

Ms Cruz, the face of modern hairspray
Four Christmas' later, and the scaffolding is still there. In fact, it's getting hard to remember a time when it wasn't there, and harder to think of a reason why it shouldn't just stay as it is, in a permanent state of rennovation. At the base of the tower, a whole street has turned into a wooden village for builders and façade specialists. The scaffolding is some five meters deep around the base of the building, turning pavements into darkened tunnels. One can imagine that the businesses in the ground floor might soon want to extend their storefronts out into this new exterior space with tents, pieces of corrugated iron or plastic sheeting. A kind of high-class boutique slum.
By December 2006 though, it had become clear that extensive rennovation was needed, and that a messy and protracted legal battle was going to be the only way to find someone to blame. In October of 2007 Hans Kollhoff went on the record as saying "We've built so many buildings and proven that it can't have anything to do with us", which carefully avoided slandering some contractor, or making any sense whatsoever. A couple of months later Daimler-Crysler sold the building to the Swedish bank SEB for 1.3 billion Euros, and with it, one assumes, the 10 million Euro rennovation costs.
But what this is really about is the twofold irony which has afflicting the building during the whole escapade.
The first is to be found in the choice of advertising attached to the scaffolding, which has always striven to acknowledge the extreme verticality of the space available. Adverts for hairspray are particulrly succesful. The proportions lend themselves particularly well to 50 meter pack-shots, whilst the product itself boasts of properties sadly lacking in Kollhoff's tower: in the above detail we read that L'Oreal's Elnett (hairspray to the stars) has "Ultra starker halt", meaning it has super hold. Shame Kollhoff's brick-look tiles don't.
The second irony is that, in its wraped-up state, the northern flank of Kollhoff's po-mo tower bears an eerie resemblance to Renzo Piano and Christoph Kohlbecker's streamlined wedge next door, and with it, an altogether different approach to building high in a city proud of being squat.