18 March 2010
By Karen Eliot
Here's a fresh press image from J. Mayer H., the latest in development group-fueled post-Stimmann era stylized boxes. It feels kind of blobby, but underneath a box is clearly lurking. I remain equivocal as I prefer my boxes boxy, my blobs blobby. Still, plans and sections are yet to have been reviewed by the discerning eyes here at Slub Slab.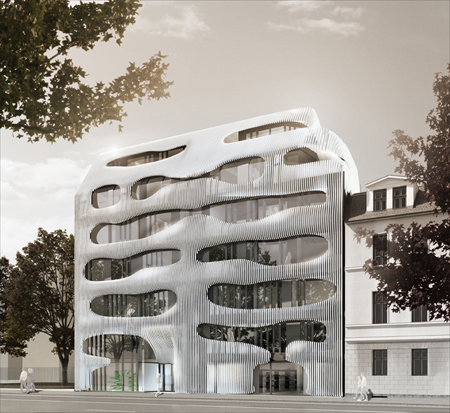 And here's Juergen Mayer's accompanying press release text:
JOH 3 – New Apartmenthouse Johannisstraße 3, Berlin

Property development group Euroboden is building a unique apartment house at Johannisstraße in Mitte, Berlin's downtown district. J. MAYER H. architects' design for the building, which will soon neighbor both Museum Island and Friedrichstrasse, reinterprets the classic Berliner Wohnhaus with its multi-unit structure and green interior courtyard. A suspended lamella facade not only provides privacy but also draws historical reference to the elaborately decorated facades from the Wilhelminian period. Plans for the ground floor facing the street also include a number of commercial spaces. The generously sized apartments will face south-west, opening themselves to a view of the calm, carefully designed courtyard garden. Spacious, breezy transitions to the outside create an open residential experience in the middle of the city that, thanks to the variable heights of the different building levels, also offers an interesting succession of rooms. The units' varying floorplans and layouts indicate a number of housing options; condominiums are organized into townhouses with private gardens, classic apartments or penthouses with a spectacular view of the old Friedrichstadt. The integrated design concept, which incorporates everything from façade to stairwells, elevators to apartment interiors, promises a unique spatial and living experience with an eye to high design.
This seems more the language of a property developer than the artist-cum-architect, and I wonder who really penned these words. As far as the new building's "historical reference to the elaborately decorated facades from the Wilhelminian period": really? I have to be honest and state that this is not far off from the tricky-ricky lingo we've become accustomed to whist browsing promotional material for such projects as The Fellini Residences.
And the last sentence is pure fluff. The architect – who has been touted by several publications as one of the hottest young German designers of the last few years – appears misguided in the approach he's taken to representing his own work. Why not save such low-brow stuff for the people who actually have to sell the real estate? Because consumers and producers of culture, to whom an architect would presumably be directing such a press release, generally want to use their minds while reading such blurbs.