23 May 2010
By Ian Warner
Due to a savage workload and a beastly cold, or a beastly workload and a savage cold, I've fallen way behind in the coverage of the Hejduk saga. Suffice to say, much has happened, and much has been achieved. I'll keep the documentation of events to a minimum, since Jim has already done such a good job over at Architecture in Berlin.
So, here's what happened
On Monday 19th April a senate organised "Baukollegium" was held, where Robert Slinger, Florian Kohl and Matthias Reese presented the case for Hejduk's "Tower With Wings" to Senate Building Director, Regula Lüscher and others. At this meeting they gave a general presentation about the history of the building, and the context in which it was built. They also read out a letter penned by Renata Hejduk, who had intended to come to Berlin, but had been held back by recent volcanic activity, and delivered the petition. Present too, was the building's new owner.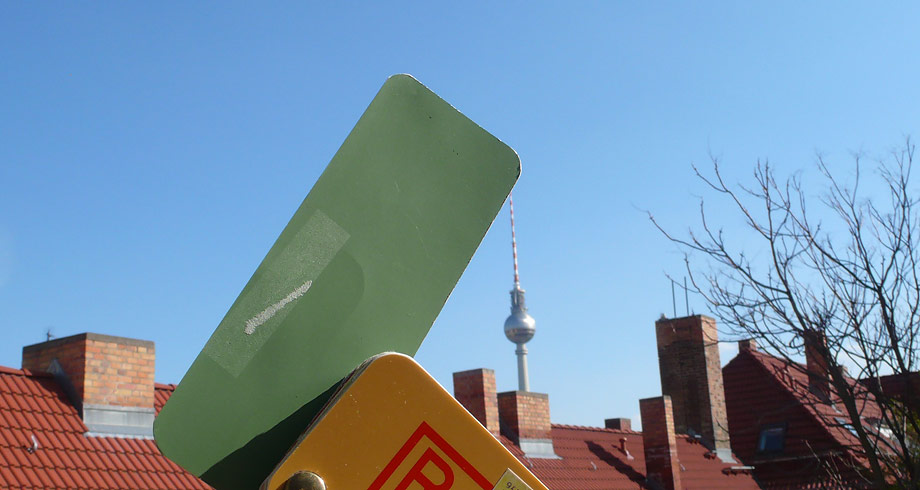 Hejduk's colour for Berlin: RAL 6011
The 3000 signatures gathered in support of the buidling, were literally a weighty indicator to the Kollegium and its panel of experts that informed opinion held the changes for a defacement of Berlin's cultural heritage. In short, the petition helped to turn around a situation in which Mr Prajs wasn't actaully legally required to seek anyone's approval.
Results of the meeting were announced in the Berliner Morgenpost on the 24th April in the form of an interview with Frau Lüscher: the building is to be restored to its original design, including the colour scheme – which of course means that the removed balconies will need to be rebuilt.
An unexpected twist
As if this weren't good enough by itself – and this is where the story takes a really unexpected twist – two pavillions designed by Hejduk could now end up being built on the scrappy bit of land in front of the building, thus "completing" the ensemble. Robert Slinger of Kapok proposed the idea in a mail written to Hejduk three weeks ago. Although he seemd to think the idea was a bit of a pipe dream, it was clear that realising these structures would make perfect sense in the context of a public park. Funding might well also be secured out of a pot set aside for urban parks and public spaces.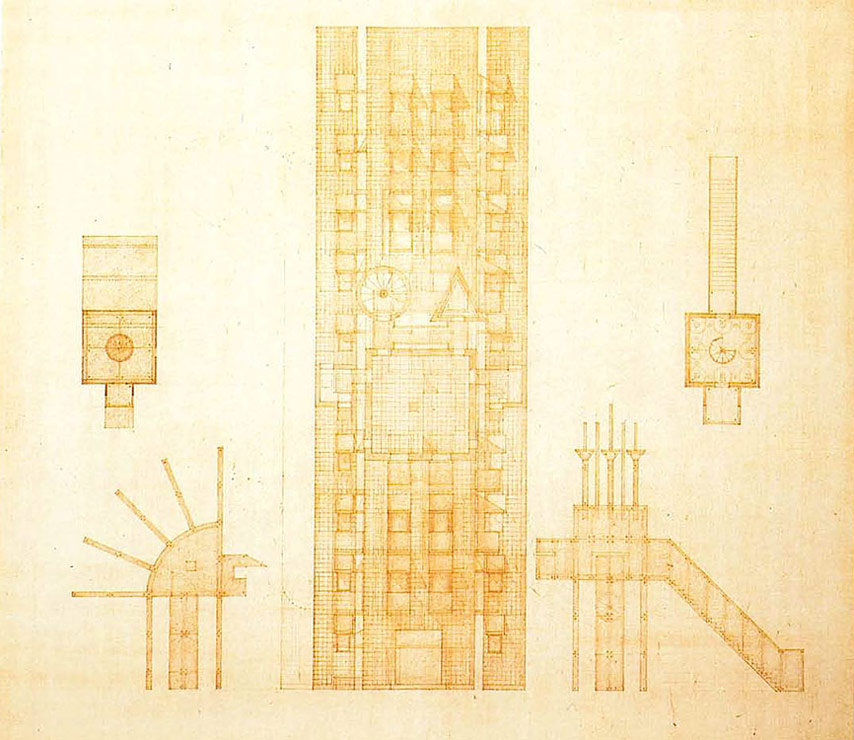 Hekduk's x-ray drawings of the Tower with its two pavillions
The two pavillions, "Studio for the painter", and "Studio for the musician" were both exhibited as centerpieces in 1987 IBA exhibition held at the Martin Gropius Building in Berlin. Why they never made it from the museum to the street isn't clear, but I can well imagine that they probably just looked too damned scary. Robert Slinger offered a more practical reason when we chatted last weekend: if built at the scale suggested by Hejduk, the pavillions would have to confirm to all the regulations to which a 'normal' building must abide. Fire safety and questions of maintenance, ownership and access all come to mind. Shrink the pavillions to the size of sculptures though, and the idea dies.
Asides
I'd like to quickly go back to the Baukollegium. One salacious detail about the meeting is that the tower's new owner, Mr Sruel Prajs, turned up with absolutely no defence prepared for the changes made to the building. He simply didn't know what he'd aquired, which seems a little odd. Is a passing knowledge of architecture not required of property dealers, in the same way that, say, a fishmonger knows a thing or two about fish? No wonder they talk about 'objects'.
Admittedly, defending one's own ignorance is a hard thing to do, but an honest answer would have had some dignity. If I might be allowed to speculate for a moment, it's worth noting that the Berlinhaus's offices are located in a building next to Hejduk's tower. It's a detail I hadn't noticed whilst the campaign was hotting up, but maybe the reason for the white paint job and pink balconies was to pretty-up the view from Prajs' office window. A bone-headed whim. To paraphrase Oscar Wilde, this sounds like a case of "a man who knows the price of everything and the value of nothing."
Signs and signifiers
Just out of interest, I dropped by BerlinHaus' office building the other week. I'm not sure why. Probably a bit like when Columbo makes a false exit, then comes back to his suspect and says "just one more thing "¦" Maybe I was childishly looking for a detail which would smugly confirm my worst suspicions about a property dealer. But a quick look at the company's sign made details irrelevant:
Chasing down evidence to support your own grim world-view can fill you with a great sense of purpose. But having all your darkest prejudices confirmed so swiftly is thoroughly deflating. I mean: thirty-six companies? Alright: it doesn't have to mean there's something dubious going on. But there'll be a benefit to it which far outweighs the disadvantages of a complicated tax-return.