I.W. Sat 30th May '09
Whilst in Athens recently I developed a sudden passion for the tiny, ubiquitous kiosks known as "periptero" (περίπτερο), which are to be found on just about any street you care to mention. The name is related to "peripteros", which is the name given to Greek or Roman temples which are surrounded by a portico with columns. These tiny commercial units have an institutional status in Greece: they serve an important socio-political role through the regulated way in which kiosk licences are awarded to applicants by prefectures, and they do much to define the spatial and civil character of urban areas.
Click photos to enlarge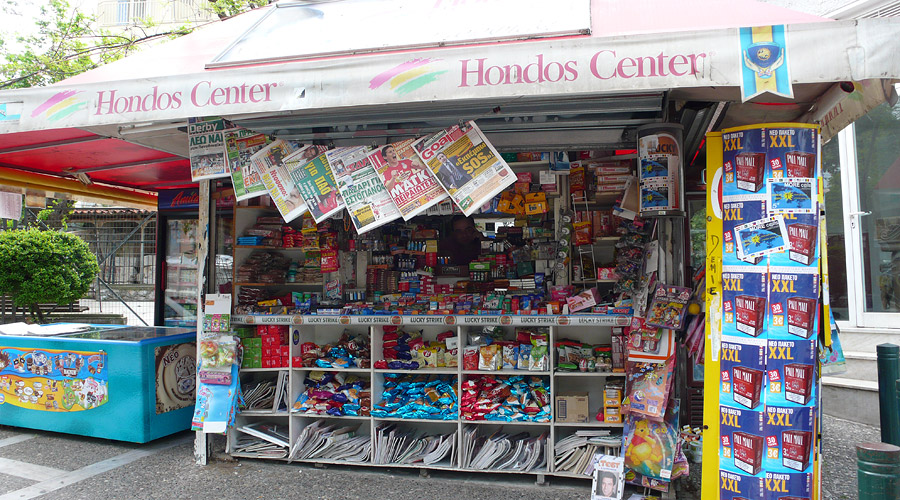 The economic importance of periptero for their owners is self-evident, but cannot be understated for the country as a whole. A German Wikipedia entry states that Greece's 18,000 periptero have an annual combined turnover of 7 billion Euros, a sum which makes up 3.5% of Greece's GDP. It's an astonishing amount, almost inconceivable judging by the humble appearance of many of Athens' kiosks.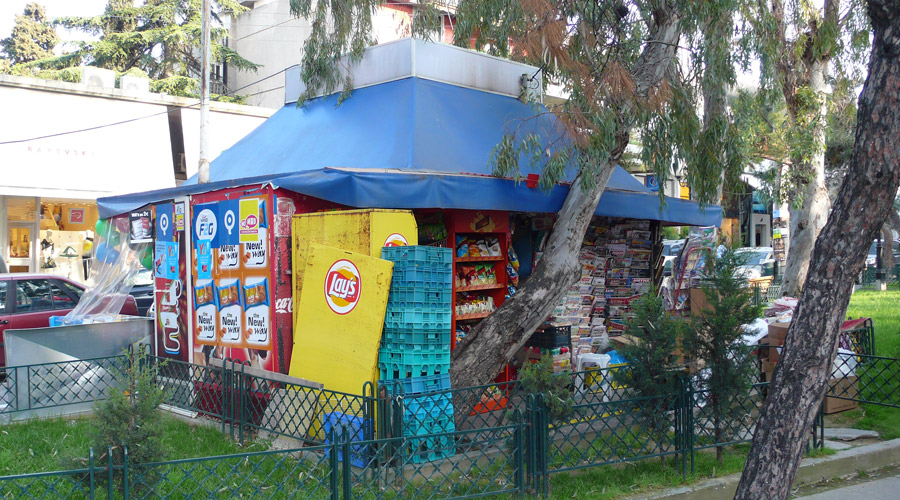 Almost all periptero have the same statutory floor-plan of 1.3 x 1.5 meters. This can best be seen in the first photos at the top, where the basic shell is quite apparent. Wooden shelves usually surround the core structure on three sides, with magazines and newspapers typically displayed to the left and right, but sometimes also lower down at the front. Chewing gum, sweets, chocolate bars, crisps, and cigarette lighters and papers can be found directly around the sales hatch, as can disposable cameras and batteries. Transactions take place through a hatch no larger than an unfolded newspaper, and access to the kiosk is at the back through an opening which can vary greatly size from kiosk to kiosk. One door I saw was little more than a tin flap. Another resembled the typical front door of a detatched family home in northern Europe, except that it was little more than a meter tall.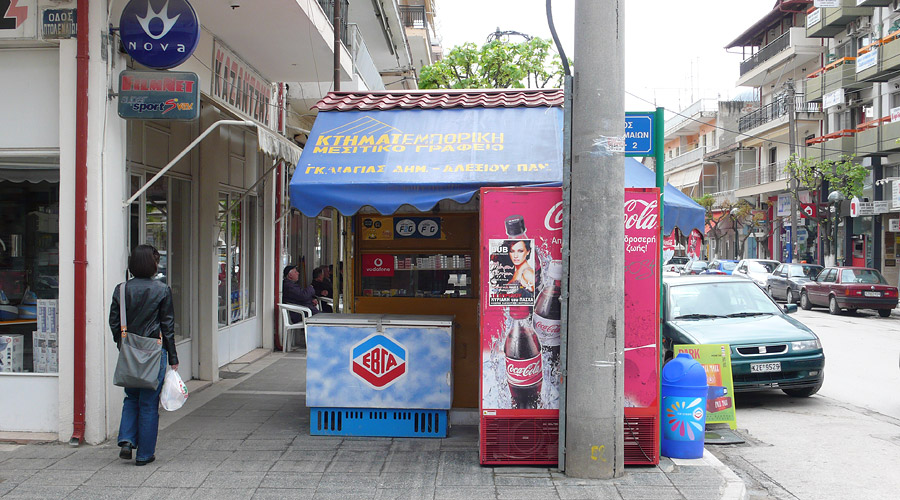 Whilst the floor-plan is regulated, it is the space directly below the canvas roof, surrounding the central structure, which makes the periptero such an anarchic piece of vernacular architecture. Judging by my own observations, it appears that the pavement space which may be utilised by the kiosk should be no larger than the canvas awning above. For the awning however, no size rules seem to apply. Apply a bit of Darwinian logic to the situation and the stage is set for all sorts of extrapolations.
The roof, and its awning, whilst ostensibly providing shelter from rain and sun, defines a border between the outside (public space) and the inside (semi-private space). This boundry is often further defined by freezer cabinets aligned along the invisible border. Upright fridges where chilled drinks are stored on a self-service basis also function as perimeter walls.
The periptero in photo number five takes this to extremes by positioning two fridges side-by-side, and pointing them inwards to create a corridor. This kiosk is also raised off the pavement on a corrugated aluminium pedestal, and the step up inside removes it further from the street. By doing this, it is on its way to becoming a traditional building and looses some of its charm in the process. One redeeming feature is the tree growing through the awning, something I saw surprisingly often in Athens.
I've spent a lot of time asking myself what makes the periptero such an attractive structure. They fall into a personal mental category of simple structures which I think I might stand a good chance of being able to build myself, albeit with some help. Sheds also belong firmly to this group. There is something honest about a structure which reveals itself in its entirity, as opposed to hugely complicated monument to technology which hides everything.
But periptero represent more than mere simplicity. They sit in an exciting grey zone between two contrasting poles: on the one hand they are municipal, normed and pre-fabricated; on the other they are personal, improvised and extendable. It is their personal nature combined with their visibility that makes them architecturally unique. Whilst interior spaces are often manipulated by their users (think of the mascots stuck to office computer screens) there is little scope for structural intervention, and any which do take place are largely invisible and rarely the result of an autonomous decision. Periptero however are wildly autonomous, and their entire architectural form is a deeply personal reflection of the daily demands, both practical and economic, faced by their owners.

Links
– Greek language article on periptero in Lifo, a free weekly listings paper in Athens
– German language Wikipedia entry on periptero
– English language Wikipedia article on kiosks in general