6 December 2006
By Karen Eliot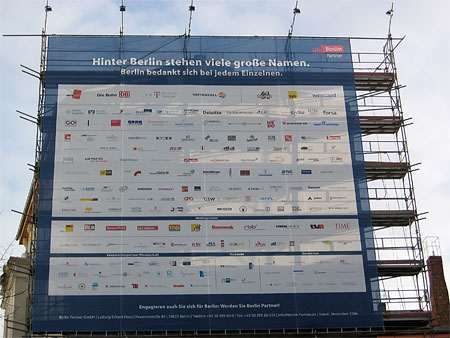 "Berlin" the brand, not Berlin the city
"Behind Berlin are many names" reads the headline, high above the interchange where Friedrichstraße, Torstraße, Chauseestraße and Hannoversche Straße meet. And then the subhead goes on: "Berlin thanks every single one".
Yes, Berlin is Logopolis. 185 corporate marks grace this huge banner, all neatly grouped into a pyramid structure of, one can only assume, importance: big cheeses at the top, small fry at the bottom, to mix metaphors. The poster has been published by Berlin Partner GmbH, a private company whose task it is to remind us that Berlin isn't just a city, but a "strong brand." We shall therefore have to refer to the city as "Berlin" (the brand), rather than Berlin (the city). "Berlin" then, is to be found at the top of this pyramid, the mother of all brands.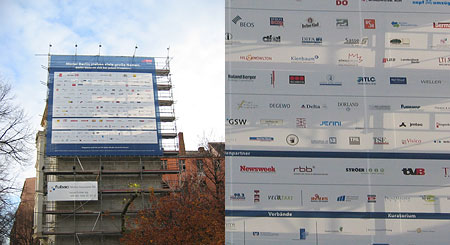 Logo heaven
Whilst the chosen ones have been elevated into a kind of branding heaven, I wonder where all the other companies are who go unnamed. I sometimes imagine a future where one half of the people have 'normal' jobs, and the other half work as brand consultants for the first half. Maybe Berlin Partner GmbH could work on a campaign where all 3.4 million inhabitants of Berlin get there own logo, and their own corporate design, and are all mentioned on a big thank you poster.