8 September 2009
By Ian Warner
Twenty years after the fall of the Wall, Berlin is still a town in which improvisation thrives, despite the constant thrust of gentrification. A word which encapsulates the situation is 'Zwischennutzung', which basically means 'temporary-use'. Low budget projects of all kinds sign temporary-use contracts ('Zwischennutzungsvertrag') with landlords interested in receiving income on a space which can't be rented out under normal conditions.
Sometimes though, the whole city seems like a giant Zwischennutzung. The 18.000 square meter recreational lawn which has replaced the Palast der Republic is a case in point:

Berlin: a bustling lawn metropolis of 3 million people
The adage about life imitating art carries little weight in Berlin where there is often no clear boundry between the two. As structural interventions go, there is little aesthetic difference between the wooden gangways in the lawn 'project' shown above, and the improvisational 'necessity' of shielding pedestrians from the falling plaster of an unrennovated building, as shown below. The only real difference is in their formal reception.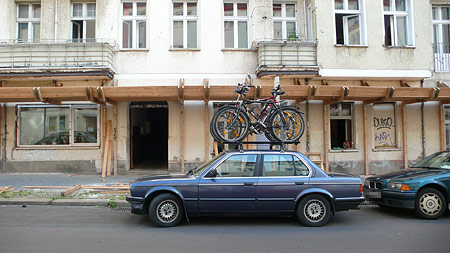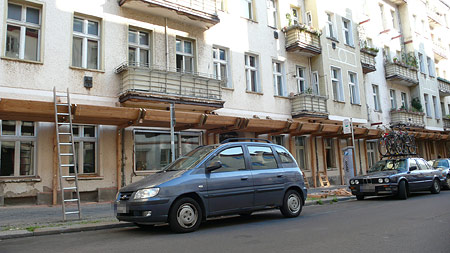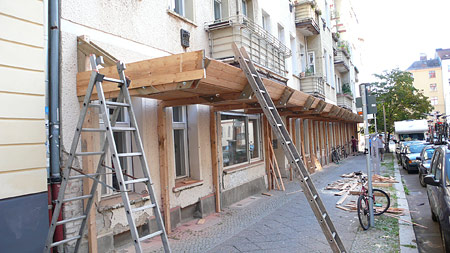 Sturdy measures taken in the name of art, health and safety
Both phenomena are temporary. They are things which get done before Something Else happens. But they open up an exciting grey zone, where artistic appraisal may be applied to utilitarian ventures. If someone had said to me that the debris catcher currently being built on Gormannstraße was a feeding station for giraffes, and therefore 'an artistic intervention in public space', then this would have been equally plausible.