5 October 2009
By Oliver Miller
Last week Ian and I caught up with Arno Brandlhuber on the construction site at Brunnenstrasse 9; it was a really cool experience to get his vibe on what its all about. And as far as the object in question is concerned, his vibe was about all we could get out of the meet. It was a good vibe, but it seems he preferred to hold his cards close to his chest, but not because he was playing the role of a self-absorbed creative egoist brushing off our flippant provocations. To be honest we were kind of in awe/boggled that he'd contacted us, so we turned the volume down on our irreverence – a little.
So it seems that after having a SLAB business card thrust into his palm, he'd read my piece a couple of weeks ago, and for whatever reason he'd wanted to meet us at the building. We showed up at the place right on time, and Mr. Brandlhuber casually rolled up on an old ten speed a few minutes later. After meeting and greeting we found a nice place on the second storey terrace at the back to sit and rap for 45 minutes or so. We expected a bit of lively debate, and that's what we got, but he was elusive when it came to the building itself. And the reason why is because he actually wanted us to particapate in a workshop/symposium/lecture series thing (!) for Seminarblock 2 of the Master of Architecture program he heads at the AdBK Nürnberg, called a42.org. The event will be centered around the construction at Brunnenstrasse 9, and is to be held right there in the building itself. Needless to say we were flattered by the invitation, and kindly took it up. But in order to keep the debate at the event as lively and spontaneous as possible he's putting a lid on it till then, which does make some sense. That said, I hope a SLAB reader or two will be there for the proceedings. We're scheduled to be a part of what's going on there on the evening of Sunday, November 8th.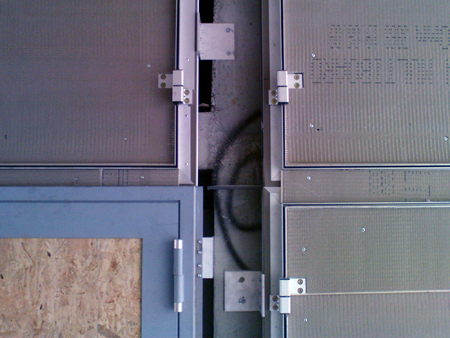 Before
From there the conversation wandered here and there, I remember there was a bit of Rem-bashing. It really seems like we were on the same wavelength! In all he was an extremely down-to-earth guy, appearing more relaxed and at the same time on top of the situation than either of us, in spite of the stresses he's got to be under as a hot architect. I wish I was wired like that.
I realize now how great it would have been to have gotten a picture of us there so as to have made this rambling text more interesting. All I've got instead is a bit of before and after visual journaling of the door details inside the passageway. I took the 'before' pictures because I have this fetish for how things look before they're finished. I wondered: why not just leave these doors the like this; clear coat it with something, call it done?
But I really like the solution they've found. Who could have guessed that slapping on that super coarse East-German-style rough-coat would look so right. The building needed something to offset the smoothness of the front facade, and this is definitely doing it. Beautiful, or maybe should I say "brutiful"?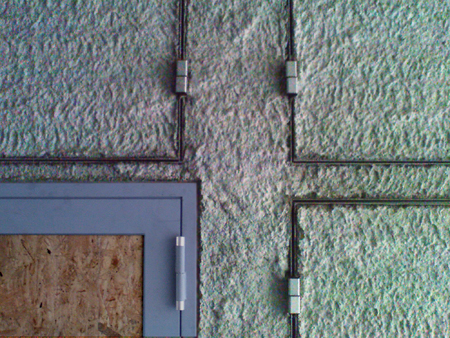 After