25 November 2009
By Oliver Miller
I first heard the moniker "Brandldude" at the last architecture round table held at Kim, it was uttered by a diploma student at the Technische Universität Berlin who had studied under Mr. Brandlhuber there a couple of years ago. Apparently that was the students' nickname for him at the time, and I must say that the expression is uncanny. His relaxed manner continues to find expression in the evolving scene at Brunnen Strasse 9, and its from there that I'm once again reporting, this time taking a look at the railing situation. As reported in my first portrait of the building, the provisional railing that had initially been put in was pretty cool. That's the kind of ghetto-under-construction look we all love down here, and its a given that it won't last and that it isn't meant to, which is why it looks so cool, and why we paradoxically wish it would never have to be taken away.
But then the initial work for the permanent railings went in a few of weeks ago. In fact they looked pretty good, but I was too stressed or lazy to get on with uploading photos in due course. The following was shot on Oct 20, 2009: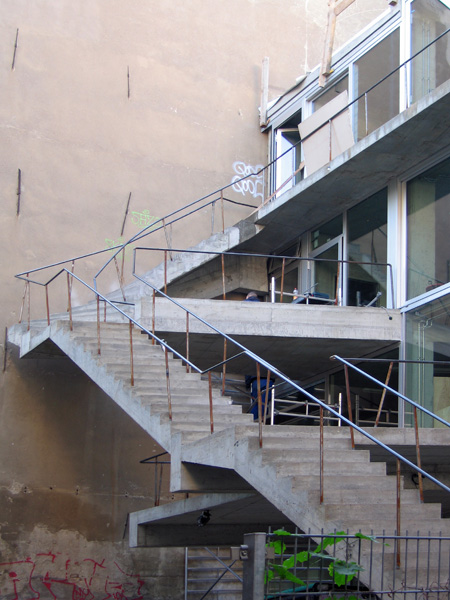 I was struck at the time by a kind of tipsy geometry to the steel framework. It seems Brandldude has no inclination to stick to a rigorously orthogonal order, but he doesn't go for a fully displaced web of skewed elements, either, nor a warpy conglomeration of non-uniform rational B-spline-derived blobulars. His look is rather like something that started out neat and tidy but then got wind-blown. Kind of like his hair. That said, I had to fear what would come next: either some horrendous perforated steel panels or someone accidentally slipping and falling to his or her death.
Back there again last weekend and getting a bit tipsy myself at Kim, where as one of the business's proprietors the drinks are altogether too reasonably priced. As is my tendency, I gave the premises next door a cursory surveyal while I was unlocking my bike in the courtyard behind the bar. I saw that some on-site prototyping had been going on for the completion of the railing, yielding still more promising results. It had taken a while, far longer than one is used to seeing in Germany, but the open clearances of the banisters were finally being filled so that no one would fall through them in the event of unfortunate slip.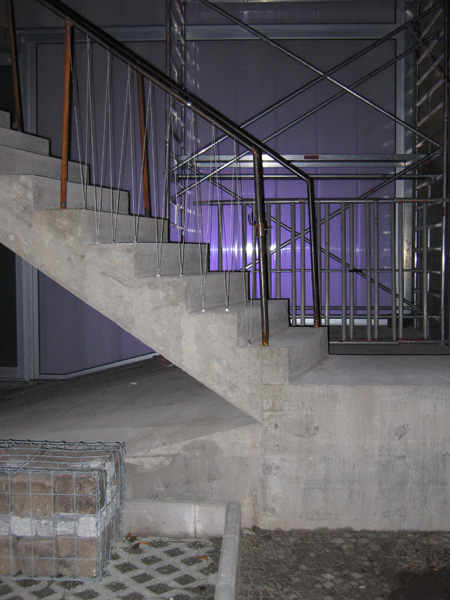 The nu-rave purple reflection is from the camera's flash hitting the polycarbonate sheeting on the building's exterior.
I really like the solution as this is an easy detail to get horribly wrong. Sand-blasted glass panes, metal screens, horzontal bands of cable or steel rods, gridded grill work and all that jazz, fuck no. But it's none of that, it references I think a typical 50's modernist solution of light triangulated stays. Here the execution's radically economical, its just one cable threaded through holes drilled in the unfinished steel piping and the eyelets that have been anchored in the concrete.
A couple of days later I was back to set up my drum kit in Kim's basement and saw a metal fabricator up on the terrace, apparently at work drilling for the cable routing. He seemed like yet another pretty chill dude: Nike sweatshirt and jamming out to his mp3 player with a cigarette dangling from his mouth while he banged a jig around and drilled away.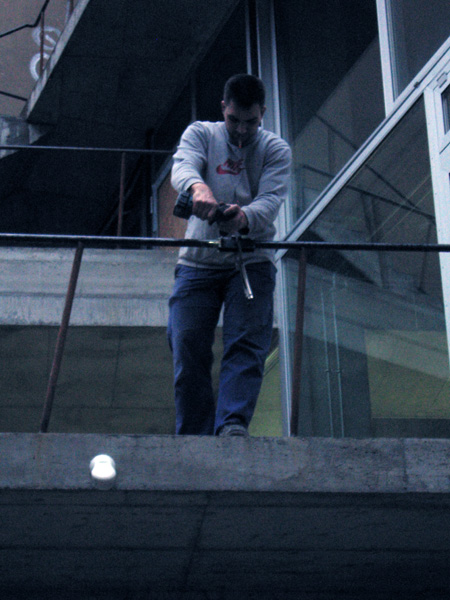 So I went up and asked him if I could take a few pictures of what he was doing. He took his earbuds out, I repeated my question, and said that I'd only need a few seconds. "Mir ist's Scheiß egal" he answered, and then put his buds back in. This is what I got, and its not that complicated, really.