5 September 2011
By Daniel Schwaag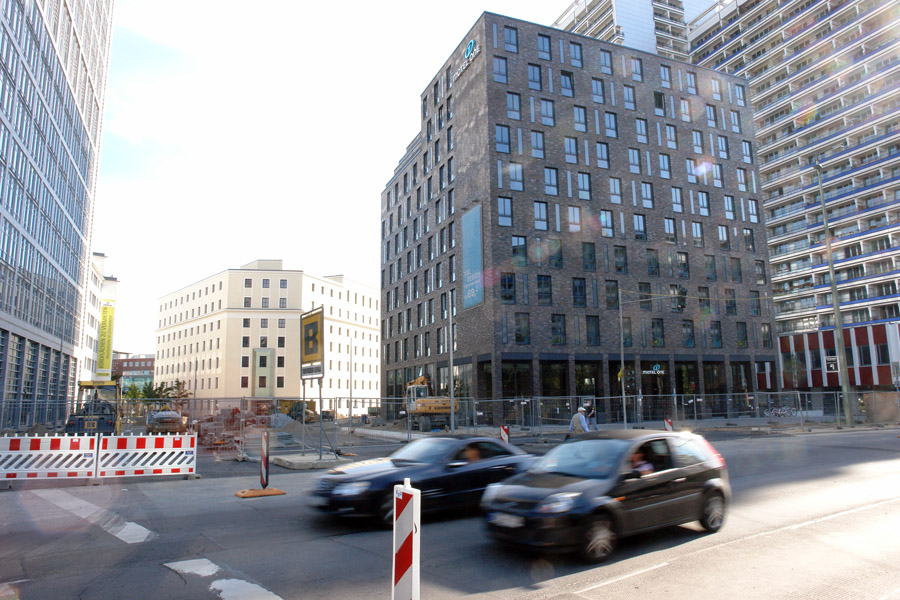 Sorry, I can't hear you, in my Motel-One turquoise "viel Geld für wenig Design" (plenty-design-for-little-money) Arne Jacobsen Egg chair, I've got a Caterpillar in my ear. How can this man slouched on the modernist sofa in the hotel's loggia be so calm among the construction mess that surrounds him?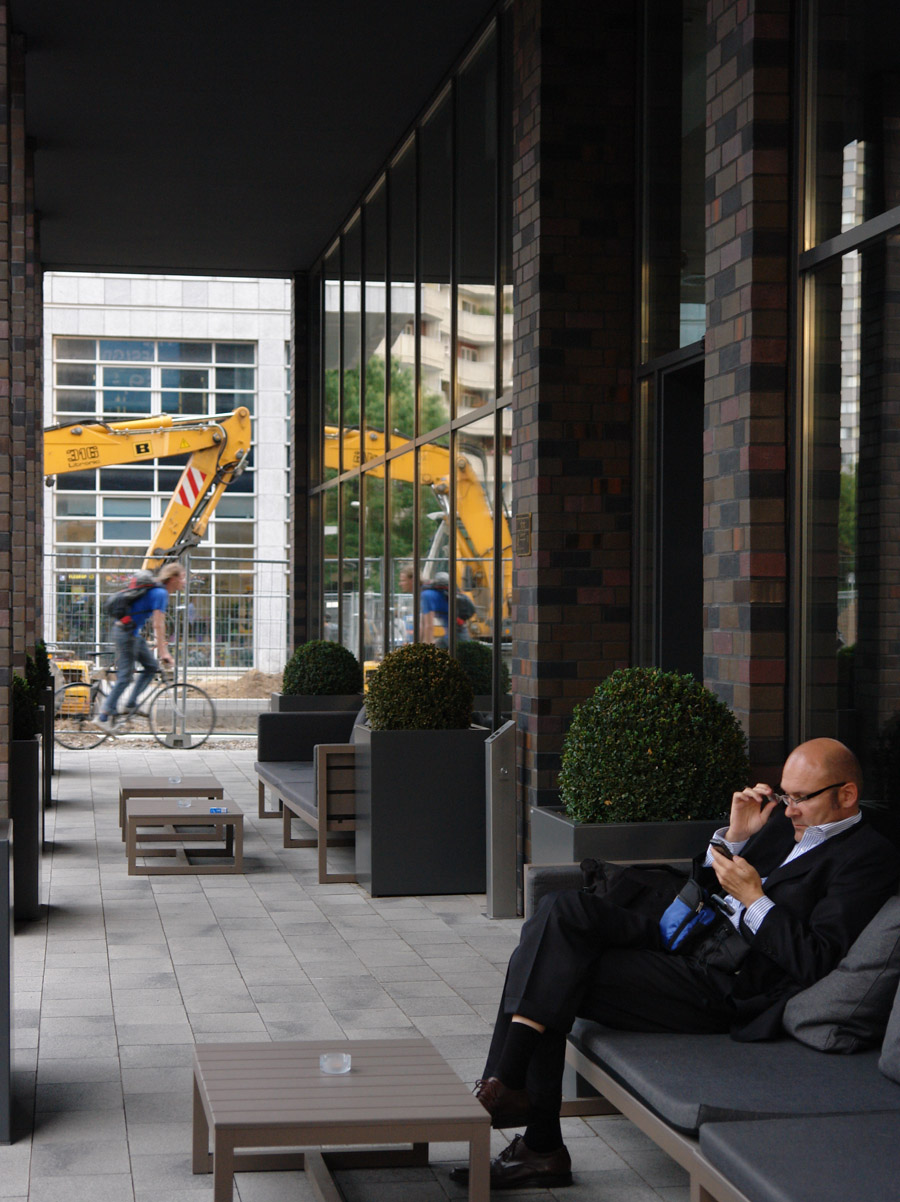 I guess because he's really not here. He's cyborged himself into his smart phone and has found placid serenity somewhere else cyber. Something distant has temporarily gotten hold of his brain through his eye sockets. Maybe he's near the nadir of a tanked investment that has just crashed through the 50 day moving average, or in a candle stick graph of his short sell that's just brushed a Bollinger band, and he's already booking a room at the Mandala, or he's checking Zalando for the latest model of Geox shoes he has a knack for? Who knows? But he certainly doesn't seem to be here.
These are some really interesting thoughts. I appreciate the opportunity of having them every day. Commutes in Berlin change almost daily depending on the circulation requirements of the many construction sites that dot one's way to work. The last few months things have really crescendoed to new levels on my commute, around the future junction of Leipziger Straße and Axel-Springer-Straße that is nearing completion. This connection was severed by the Wall. Soon, it will direct four lane traffic right past my studio window towards the A111. The adjacent Motel One was finished earlier this high season, touting viel Design für wenig Geld (plenty design for little money) to Berlin's many visitors. "But why in German?", I ask "who speaks German that stays here?" and now I feel this has got to be deliberate, this taunting on my way to work, reminding me of all the design I offer for little money.
As the finishing touches are put to the new intersection, I get shepherded around Motel One in constantly changing ways. I am led through makeshift channels of galvanized steel mesh that cut fresh twists and turns through heaps of rubble and virgin construction sands like CNC tool paths. Different facets of Motel One's rich value designs reveal themselves to me every day, brushing up against different factory fresh surfaces, pieces of furniture, or topiaries. I come comically close to people in designer furniture, closer than ever intended, spot new superimpositions of myriad reflections, or almost run into an old lady and dog or get hit by a cyclist on the loggia, lost for a passage around Motel One. It feels like universes colliding on a smaller, more mundane scale. Pedestrians seem like machines whose algorithms cannot cope with a new, unexpected topography. With each new choreography and disparate encounters, each new vista, Motel One seems to acquire some mysterious dimension. Did I just spot Yul Brynner, are those cables sticking out of this man's chest?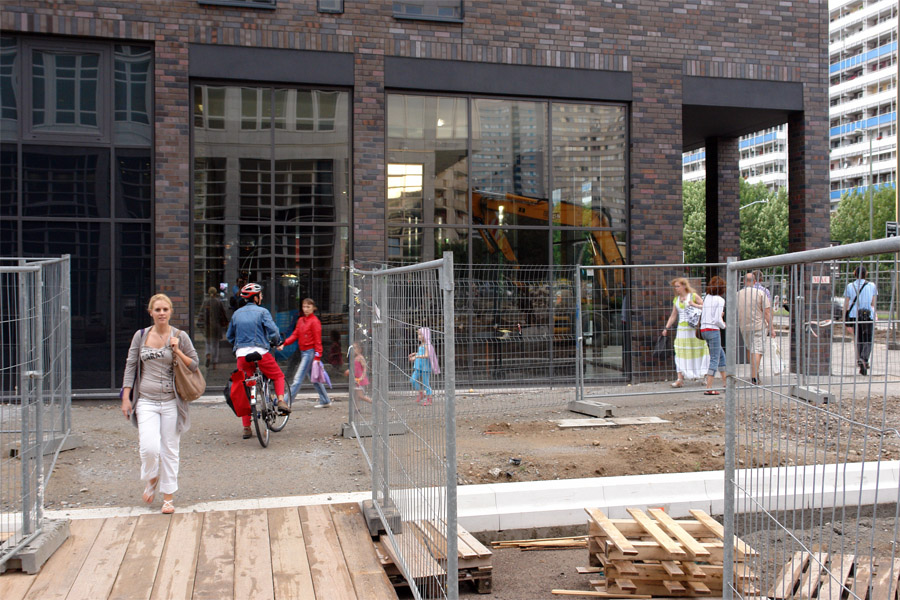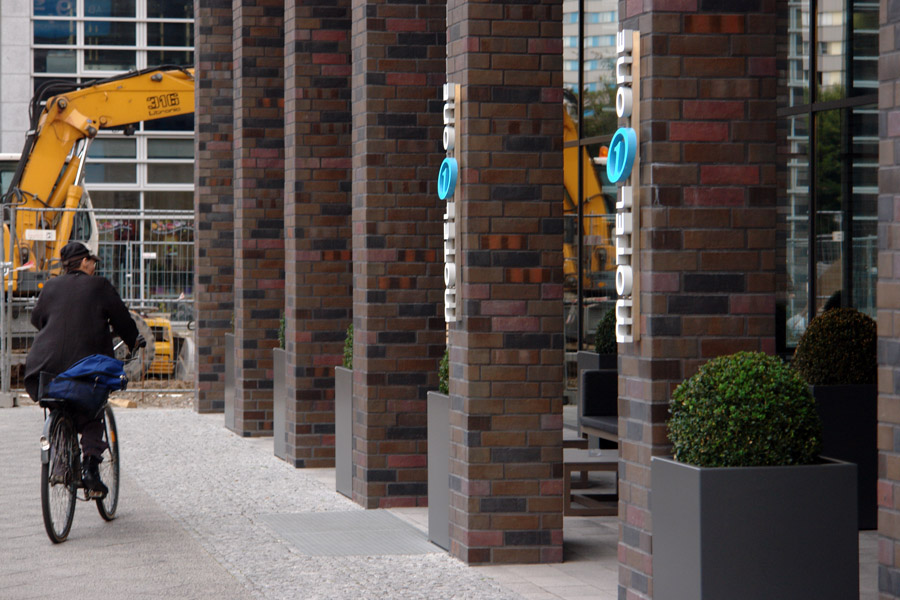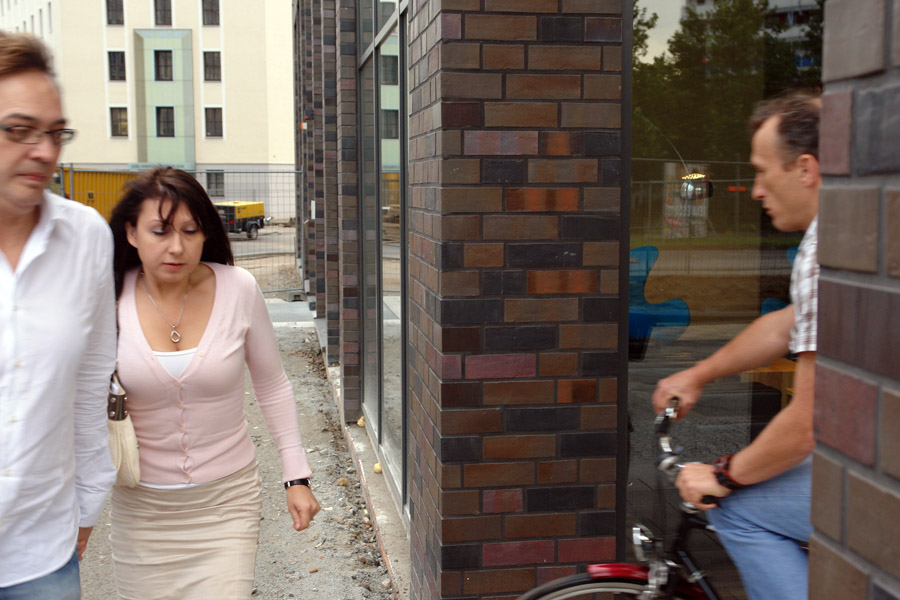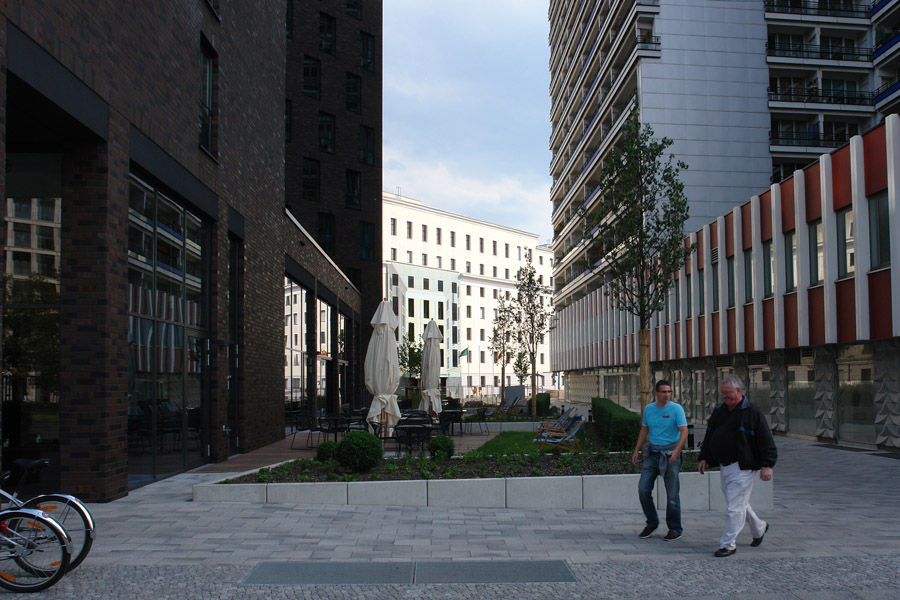 The courtyard reminds me of New York, somehow. Below, there's a green amenity space of manicured lawns and wood chip covered terraces. Beach recliners in Motel One turquoise and brown look forlorn amidst all the construction paraphernalia and soaring GDR era high rises, look like creatures themselves. Occasional guests in slacks and other business casual slurp Cosmos or wash down Alfons Schuhbeck sandwiches with a wheat beer, on timber decking stained in mahogany. Brand is everywhere. Retracted linen parasols carry a promise of intense sunlight; an empty promise, given the eternal shadow cast by the adjacent GDR high rise. Unless there is foreboding in these parasols? The whole thing feels like it came out of nowhere, plopped down and teleported from a parallel reality, where it left a gaping absence, as alien as the presence it has created, here, and tearing some people out of context along with it. Through kaleidoscopic glass, I see projections of films that show this place in the twenties and thirties, topical mementos excavated by all this digging. On one of my daily recurrences around Motel One, it feels as if it has solidified or cured into a monolith of pure carbon. I suddenly think of the Ka'ba and Mecca, of tourism and pilgrimage and meditative recurrence, the infinite verticality of meteorites and of sacred spaces that can only be attained in mind and not in body, and all the things sinister and divine that happen behind the dark, silent reflections on its Low-E glass.